My Build Thread
As written on Ford Transit USA Forum
This is not professional advice only an account of what I have done. Knarly Vans LLC will not be held liable for any actions caused by following these accounts. Use this information responsibly and always consult a professional.
My initial van build was a minimal bed that could be removed to replace seats back to stock. The longer I had the van, the more I realized:
I did not convert it often, as my mattress was heavy and hard to store
The space underneath the bed was too small and hard to use
I became more comfortable veering from the idea of returning to stock
I stumbled upon Vandoit and really liked their builds so modeled my own after theirs. Their LIV model uses a manual hydraulic lift to raise and lower the bed, which I really liked. No need to run power, and additional clearance for bikes when needed. I was also lucky enough to find a bedslide on craigslist that fit perfectly. Their DO model allows for beds to fold out of the way and be reconfigured. I eventually arrived on a combination of the two. I started by modeling the side cabinets and bed base. Using 15 series extrusion, I also mocked it up using 2x2s to verify my CAD. The goal was to order cut to length and tapped so it could be assembled as a kit for my extrusion based passenger van build.
Initially I had planned to run lateral extrusion and U-bolt to the original seat mounts to create mounting points for the bedslide, but changed to using ¾" ply as a cheaper temporary setup. I removed some material and added some kaizen foam in non-structural areas to hide tools or other items.
I had a solid bed frame designed but worked on the idea to split it in the middle so each half could fold out of the way which was important to keep it as a daily driver passenger van build. I added an overhead rail with some supports to hold movable/removable shelves, a TV, lights, as well as the bed halves separately.
I replaced my heavy memory foam mattress with two tri-fold cot sized mattresses. I can configure a near-queen E-W, or set-up just half to be a cot size, although I will need to add an extension. There were some dimensions I changed on the fly and will need to adjust to have my halves fold down straighter, they can also fold up when the hydraulics are in the lower position. The intention was to allow the option for the kids to sleep below the bed on the bedslide when needed. When in Queen E-W position the two halves are supported by braces which get stored under the bedslide when not in use. The hydraulic has a 16″ stroke.
For electrical I used a Goal Zero Yeti 1000 and Trigger six shooter controller.
I reached a usable state and progress slowed. Still to do is finish out the side cabinets for usable storage, finish wiring, probably add some sort of heater, and countless other things. Van builds are always in progress, and the great thing about an extrusion based passenger van build is how often you can modify as needed.
Also added:
Replaced carpet with sheet vinyl
Maxxair
Thinsulate insulation in ceiling
Custom Extrusion roof rack
OVS 270 degree Awning
Flatline Van Side Ladder
Passenger side swivel
B-Pillar Lagun Table
Cheers!
Once all of the roof extrusion rails are in it can be cumbersome to remove them to get under the headliner. I had previously stubbed out some wiring for overhead lights so I wouldn't have to take it all apart, and I decided to add the lights to the base of my cabinets. I left about 18″ of wire since my shelves can be positioned along the rail, I can move them and still have lights connected. I also have some color changing LED strips that I'm working on the best place for to give some fun lights if the kids sleep underneath on the cargo slide.
I built a frame with some 8020 I had around to secure the dometic fridge and attach it to the floor behind the driver seat. There isn't a need for the slide in this configuration, so I may build a cabinet around it or readjust the position and do away with the slide. I also replaced the junction box that had my breaker. I found a clear lid, snap one. Based on the GZ Link discussions I wanted an easier way to disconnect the breaker if I wasn't going to need it charging or would be idling for awhile.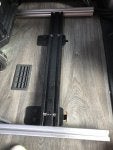 I had never plugged the hole in the headliner from my cargo light after adding the maxxfan in the rear most rib, someone asked me about it a couple weeks ago so I designed a plate to fit it and included a 12v light and switch to connect to the old light wires. Took a few revisions as you end up with the rib right there under the hole which makes fitting a light and a switch a little tight.